Spicy Sesame Sauce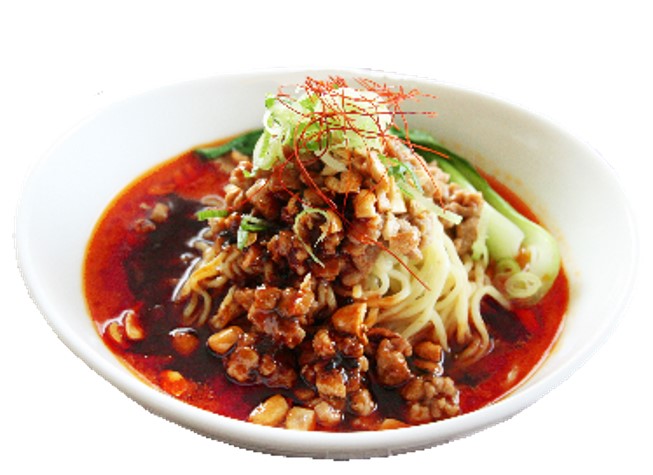 Our Spicy Sesame Sesame Sauce will leave you with a slight numbing sensation from Szechuan Red Peppercorn balanced with the mildness and sweetness from Sesame Paste                        
Product Details
Packaging:
per container / per case
---
Direction:
Use on a wide range of menus such as Noodles, Appetizers, Dips, Sandwiches, Grilled Meats.
---
Serving:
---
Contains:
: Soy Sauce (Water, Wheat, Soybeans, Salt), Toasted Sesame Oil (Natural Flavors (Natural Extractives of Chili peppers, Onion, Garlic), Natural
Extractive of Paprika),Sesame Paste (White Sesame Seeds, Sesame Oil), Water, Miso (Soy Bean, Rice, Salt, Alcohol), Sesame Seeds, Maltodextrin, Sugar, Vinegar
(Distilled Vinegar, Rice Vinegar, Salt), Sichuan Peppercorn Flavor Oil (Soybean Oil, Natural Sichuan Peppercorn Flavors), Sichuan Style Chili Bean Sauce (Salted
Chili Peppers (Chili Peppers, Salt), Fermented Broad Bean Paste (Broad Beans, Water, Salt, Wheat Flour), Rice Vinegar, Chili Pepper Powder, Salt), Hot Pepper
Paste (Fermented & Aged Rice Paste, Corn Syrup, Hot Pepper Powder, Soybean Paste, Wheat Extract, Fermented Soy Seasoning, Garlic Juice Concentrate,
Distilled Alcohol, Purified Water, Salt), Corn Syrup (Corn), Salt, Natural Flavor Enhancer Powder (Maltodextrin, Soy Sauce (Soybeans, Salt and Wheat), Salt, Yeast
Extract), Apple Juice Concentrate (Apple Concentrate, Apple Essence), Ginger Puree (Ginger, Water, Salt, Citric Acid), Hydrolyzed Vegetable Protein (Hydrolyzed
Soy Protein, Safflower Oil), Yeast Extract (Yeast Extract, Maltodextrin), Japanese Pepper, Black Pepper, Caramel Color, Red Pepper, Garlic Powder, Xanthan Gum,
Citric Acid Contains: Wheat, Soybean Tree Nuts (Coconuts)
---
Cooking Suggestion
Cold TanTan Men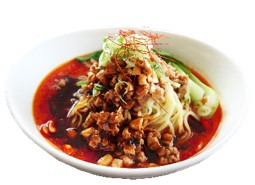 Cooking Directions
Sauce Dilution Ratio
1 (Sauce) : 0.5 (water)
---
Soupless TanTan (Spicy Mazemen)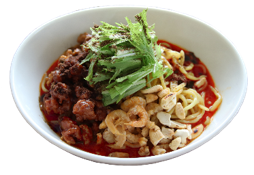 Cooking Directions
Sauce Dilution Ratio
1 (Sauce) : 1 (hot water)
---
Karaage (Chicken) Tan Tan Sauce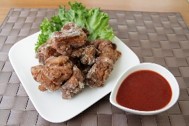 Cooking Directions
Sauce Dilution Ratio
Use straight
---
Ma-Bo Ramen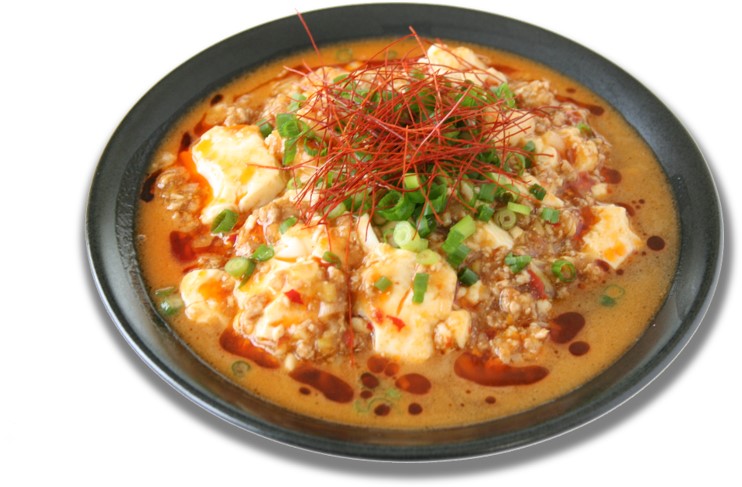 Ingredients
Use Spicy Sesame Sauce & Spicy Miso Ramen Base for Ma-bo Topping & Ma-bo Soup with 1:1 Ratio

[MA-BO TOPPING]
Mix half-half of Above Sauce (1.5oz), Water (6oz)
Ground Pork (50g), Cabbage (100g),
Tofu (100g), Green Onions (15g),
[Cornstarch]
MA-BO SOUP:
Spicy Sesame Sauce & Spicy Miso Ramen Base Mix (1.5oz), Water (6oz)
*Note: Above recipe is for one serving

Cooking Directions
1. Saute ground pork with cabbage.
2. Add the mix sauce diluted with water.
3. Add tofu.
4. Add cornstarch mixed with cold water for thickness.
5. Cook noodles and prepare Ma-bo Soup.
6. Mix Ma-bo Topping and Ma-bo Soup together. Add noodles and garnish with green onions.

---